To register for these programs or for more information contact the Edmonton Program Coordinator, Evelyn, at This e-mail address is being protected from spambots. You need JavaScript enabled to view it or by phone at 780-807-3401 Alberta Sports & Recreation Association for the Blind Website: www.asrab.ab.ca
Blind Ice Hockey
ASRAB is piloting this program to offer anyone with a visual impairment 13 or older to learn how to play Hockey.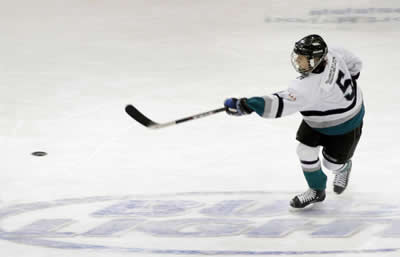 The snow is almost gone, so let's get on the ice! With the co-operation of both visually impaired and sighted players, as well as the use of an audible puck, this 5 week Hockey pilot-program is bound to be an exciting and quick-paced experience.
No experience is necessary. This is a recreational program for ages 13 and up.
ASRAB is also looking for volunteers with Hockey knowledge and background to participate alongside blind and visually impaired participants and to assist in leading the practices.
Blind Hockey looks like this: http://www.couragecanada.ca/programs/canadian-blind-hockey/
Blind Hockey is huge in Canada with teams in Vancouver, Calgary, throughout Ontario and Montreal. Courage Canada has hundreds of visually impaired kids learning to play. A national tournament is held in Toronto each winter. Be a part of Edmonton's Blind Hockey Movement.
Low cost equipment can be found for youth through the Brick Sports Central http://www.sportcentral.org
For adults and youth gently worn equipment try Totem Outdoor outfitters on south Calgary Trail at about 79 Street. They have a used equipment area in the back of the store full of skates and hockey gear. http://www.totemoutfitters.ca/totem-sports-exchange/
Location: Kenilworth Arena (8313-68A St)
Date: Sundays May 5 to June 9th (no program May 19th)
Times: May 5th, 4:15-5:15pm; May 12th, 26th and June 2nd, 3:30-4:30pm; June 9th, 4:00-5:00pm
Movement For Me
ASRAB invites kids with visual impairments from ages 4-12 to get moving! This active group will focus on learning and improving movement skills essential for sport and leisure activities. We will learn through games, songs, and play. During this program we will introduce fundamental skills for Soccer, Basketball, and Goalball, as well as other sports while also increasing confidence in general physical abilities. Come and meet other kids, get active and have fun!
Location: Royal Alexandra Hospital (10240 Kingsway Avenue)*
Date: Saturdays, April 13th - June 8th (no program May 18th)
Time: 2:00-3:00pm
* the location may change for some Saturdays
What do you need?
Please dress in clothing that allows for movement
A 2013 ASRAB Membership (if you are not already a member please contact the Edmonton Program Coordinator for more information)
Walking through Edmonton
As warmer weather has finally graced us in Edmonton, it's time to enjoy the great outdoors! ASRAB invites you to join us for a walk once a week during the month of May. We will meet at the main doors of the Shaw Conference Centre (9797 Jasper Avenue) and then head into the River Valley for a walk/hike suitable for all participants. The dates and times are as follows:
Edmonton from River Valley
Thursday, May 2nd from 10:00 - 11:30 am
Saturday, May 11th from 3:00 - 4:30 pm
Thursday, May 16th from 10:00 - 11:30 am
Saturday, May 25th from 3:00 - 4:30pm
Thursday, May 30th from 10:00 - 11:30am
Yoga
This is a great opportunity for youth and adults (14+) to work on core strength, balance and flexibility. This eight week program will build on instruction from the winter classes as well as continue to provide a learning environment for those new to Yoga. Any
skill level is welcome; no experience necessary.
Location: Room 5, Stanley A. Milner Library,
(7 Sir Winston Churchill Square).
Date: Mondays, April 22th - June 17th (no program May 20th)
Time: 7:00-8:15pm
Lawn Bowling
Lawn Bowling is a target sport played on a well-kept outside lawn in which two inividuals compete against eachother trying to get one of their 4 balls closest to the smaller white ball. For athletes with visual impairments a director guides them as to the distance and direction in which to bowl.
ASRAB and the Lawn Bowls Association of Alberta would like to invite interested individuals to a TRY- IT afternoon. Come out, enjoy the fesh air, a fun game, plus finish off the day with cookies and coffee. Bring a friend to be your director as well as a flat pair of shoes. No experience is necessary; directors and participants will be given instruction and guided by volunteers throughout the afternoon.
Location: Royal Lawn Bowling Club (107 St & 97 Ave on the Alberta Legislature Grounds)
Date: Sunday, June 9th
Sart Time: 1:30pm
Dragon Boating
The Oil City Crew Dragon Boat Club has once again partnered with ASRAB to coach Dragon Sight,
a Dragon Boat team of both partially-sighted and sighted individuals. The group offers both recreational and competitive opportunities. Dragon Boating is a great way to get comfortable on the water as the long boat does not tip. You could be one of 20 paddlers who pull the water to the rythym of a drum making the dragon headed vessel glide through the cool water on a hot summers day. Practices will begin in June. Contact the Edmonton Program Coordinator for further details.
Swimming at The Steadward Centre
This is a 6 week Para-Swim Exposure camp in collaboration with the U of A Bears and Panda's Swim Team. This is not an ASRAB Sponsored Program but is an exciting opportunity.
This program will run from 7:00 - 8:30 pm on Monday and Wednesday starting Monday May 13th and finishing on Wednesday June 26th in the University of Alberta's East Pool in the Van Vilet Centre (114 St & 87 Ave). The cost is $150.
The purpose of this camp is to generate opportunities for sport minded individuals experiencing disability to be introduced to the sport of swimming. Through access to qualified coaches and adapted physical activity specialists, athletes involved in this camp will have the opportunity to develop the technical skills of swimming in a welcoming, safe and supportive environment alongside peers also interested in swimming.
This camp will introduce youth aged 11 - 25, currently comfortable in the pool setting, to the sport of swimming. Participants will be introduced to competitive swim strokes, pool entry techniques and turns on the wall through progressive, individualized instruction.
Interested individuals can register by calling The Steadward Centre at: 780-492-3182. If you have questions or comments, please email me or Nathan (lead swimming coach) at This e-mail address is being protected from spambots. You need JavaScript enabled to view it
If you have interest in para cycling, Stephen Burke (Para Cycling coach from Calgary) and Amy MacKinnon are looking to do the intro/development para cycling clinic this year on a weekday but would like to find out how many of you are interested in participating and if you would be available on either of the following dates and times. Bicycles will be available for you to use during the clinic and no experience is necessary to participate on May 28th or 30th . Start time 3 pm, end time 9 pm. Cyclists will be separated into different groups with a different start time for each cycling group. Groups: hand cycling, tandem, upright cyclists (2 wheeled bikes), tricycles/recumbent.
Please let me know if you are interested in participating in this event and if so, which date works best and if the afternoon start time will work for you.
As an FYI we are interested in expanding our cycling program this year to include all cyclists: hand cyclists, tricyclists, tandem cyclists, recumbent cyclists and two wheeled bicyclists (basically everybody ;). Please let me know if you are interested in being part of our regular weekly rides and I will keep you up to date. Rides will take place on Wednesday or Thursday evenings throughout the summer starting end of May. Exact date is TBA within the next couple of weeks. Also, we have the opportunity to have a couple tandem bikes here in Edmonton for the summer which is great news for our Tandem Cyclists, and we have a couple adult recreational tricycles available for use in the program as well.
Hope to hear from you all soon! Thanks,
Amy MacKinnon

, BPE

Client Services Coordinator / Adapted Adventures Program Coordinator

Canadian Paraplegic Association (Alberta)

305, 11010 - 101 Street

Edmonton, AB T5H 4B9

Main: (780) 424-6312

Direct: 780-424-6312 ext. 2231

Fax: (780) 424-6313

www.cpa-ab.org
To wrap up our excellent goalball season in Edmonton ASRAB hosted a Goalball festival April 27 and 28 at Ross Shepherd School. There were 4 co-ed adult teams and 2 youth teams. We all had a blast and for the first ever Edmonton tournament it went without a hitch that I know about. A huge Thank You goes out to the Calgary ASRAB volunteers that came up to referee and run the talbe (Janice, Danny, Peter and Lorna). Cathy brought up the Calgary youth team on Saturday and these up and coming athletse played back to back games.
Here is our Edmonton crew in a story by John Robertson of CBC tv shot as a lead up to the Goalball festival. http://www.cbc.ca/player/News/Canada/Edmonton/ID/2381777274/
The festival was a great success and media helped us to promote awareness and the fun of Goalball. Marti was there from the Edmonton Journal, here is his article with 6 on-line pictures:
http://www.edmontonjournal.com/health/Goalball+tournament+Edmonton+fuels+competitive+spirit/8307405/story.html 630 CHED radio station also interviewed Evelyn. Thank you to everyone who came out to volunteer as goal judges, table officials and fans! See you next year!
Last year I raced a racecar around a 1/4 mile track. The Wetaskewan International Raceway hosts a 3 heat event to raise funds for the Alberta Guide Dog School. Great event. Great Fun! Here is the link to the Blind Behind the Wheel Video
This site introduces Carrie, her projects, interests, involvement and sport career as a Paralympian for Canada. There are areas like Coaches Corner for athletes to connect for schedules and drills, other announcements with regard to adapted sport, assistive technology and accessibility. Contact Carrie for more information or to hire her.
Carrie Anton is a Gold Medal Paralympian from the 2000 Sydney Paralympic Games in the sport of Goalball. She enjoys tandem cycling and hiking. Tandem racing is done on the road or an oval track. A tandem bike seats 2 people, the pilot and the stoker. The duo can reach speeds up to 80 km per hour.Carrie is also training in rowing with the Edmonton Rowing Club. In a quad or a double, skulling or sweep rowing provide great exercise. Rowing is a relatively new sport foe the disabled in Canada.
Athletes require sponsors and often full time jobs. As such, Carrie is one of Canada's leading Assistive Technology & Web Accessibility specialists. She also creates websites like this one. Adding to her busy schedule Carrie:
Coaches ASRAB's Goalball program in Edmonton
Reporter for Accessible Media and TAC (The Accessible Channel)
Director on the Board of the Edmonton Sport Council
PR coordinator for amateur athletes like Viviane Forest 3 time Paralympic Gold Medalist
Role model and inspiring motivational speaker
involved in the Edmonton sport community
Working hard and enjoying it is all about passion!